14 Jun

BARBED WIRE SYMPHONY
Symphony by Samy Moussa, conducted by Kent Nagano and put on the stage by Moment Factory, in Montreal (reccording 31 May 2017, 53' 40''. Extract in the link https://www.youtube.com/watch?v=OV9N3Jalrho in 00:29)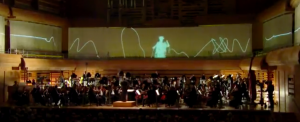 Barbed wire symphony, ongoing series by the painter Traver Calzada.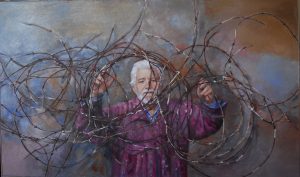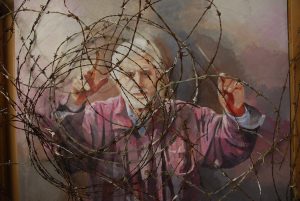 Question. After listening to the concert of Montreal and proving the similarity with your work of art, do not you miss in your painting the technology that would let you incorporate movement and sound?
Response. No. This kind of experiences has been seen yet in the biennials of Paris and Venice, or in the film Fantasy of Walt Disney, as for instance, forty or fifty years ago. The movement and the duration belonging to the music language, the dance, the cinema and in a way to the narrative. Their action proceeds at the time. On the contrary, painting condenses it and shows it once at all.
Question. Why barbed wire?
Response. I like unraveling things. In the chaotic ones, I always think I see a kind of order. This entanglement of twisted barbed wired, oxidized, with its dangerous spikes, the knots, and tensions that produce when intersecting are fascinating because it contains all the figurative and abstract elements that painting has ever used.
Question. And you self-portrait yourself as an orchestra conductor conducting the chaos that would be the world in which we live…
Response. And a chaos that beyond the emotional involves geometry, mathematics, and physics. We think in the knots and the no-knots, the implausible ribbons of Moebius, the knotted molecules in clover, the knots in eight of DNA that scientists take seriously. The cross, belts, labyrinths, spirals of the ancient manuscripts, the Celtic filigrees… Regarding the complexity of the world… if you don not understand and do not like all that surrounds you, you try to understand and change it. The politic handles levers of power, other from the civic association and the NGO, the artist tries to do it from the creativity and the beauty that, against all odds, thinks discover in things.
Question. Do you thing that Art can redeem miseries of life?
Response. The reality is that it is and everyone tries to improve their situation. The aim is to help us to do it, each other.